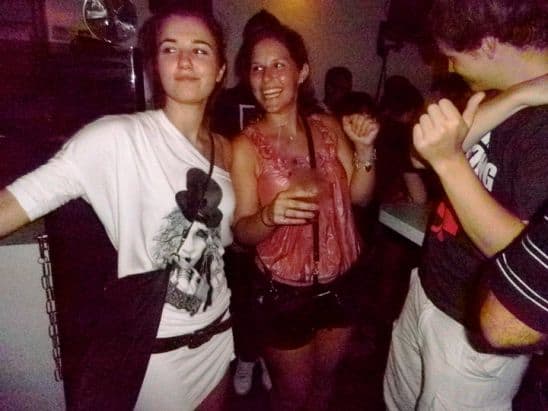 I have to be honest, I don't actually enjoy exercising all that much. I am not one of those women who can spend a couple hours in the gym riding a stationary bike or weight training; I get very bored. Generally, when I do exercise, I swim, practice yoga, or go to dance class. It's lucky for me then that it doesn't appear that people go to the gym very often here in Spain, or at least not in Murcia. Sure, I do see random people running every now and then, but apart from that exercise in a gym does not seem to be a major part of the locals' lives. In fact, there isn't even a university gym for students to use. Exercise seems to come in three forms here.
The first being nothing more than the general day-to-day exercise of walking everywhere. There are very few cars on the streets, even on the Gran Via (the largest street in the city). Murcia is considered to be a medium-big city, I relate it to the size of downtown Denver, but perhaps that is because I am from Denver. Anyhow, from what I gather, Murcia is a medium-big city because it is not tiny but you do not need a car or public transportation to get from one side to the other like you would in Madrid or Barcelona. Thus, the only people who drive into the city are the people who live in one of the other towns in the region and work, or study, in the city center.
The second form of exercise is athletics, especially for the men. Almost every Spanish guy I've had a conversation with plays for some sports team whether it is just a group of friends, a club team, or a professional team. The most popular is, of course, futbol (soccer) followed closely by volleyball. I presume that women are also a part of sports teams, but I have yet to meet any.
The third form of exercise is dancing. Now I don't mean dance class necessarily, although many do attend class, this being a more common form of exercise for women, which I have discovered firsthand in my conversations with my flamenco instructor. As a tangent, I am not sure whether this is a machismo thing (that men plays sports and women take dance classes) or if it is merely traditional, because honestly, how many men take dance classes in the US? Socio-political speculations aside, the dancing that I am referring to is the dancing that one does in a club on a Friday or Saturday night (or a Thursday night for that matter). I can't imagine that using clubbing as a form of exercise in intentional, but it definitely works. For one, the clubs are packed so you have to use a lot of strength just to stay on your feet; especially in you are wearing 3-inch stilettos, which most Spanish women wear on a daily basis. For another thing, you are dancing for at least 3 hours straight, since, at least I, lose all track of time. Whenever I intend to go out for only a couple hours I always end up getting home at about 6 in the morning, which is still early by Spanish standards.
Well, as I said initially, dancing is generally how I exercise anyway; it is just typically in a more formal class setting. I get my fill of that with my flamenco class two hours a week, but the real exercise is the after-hours clubbing with my friends. So my suggestion is to forget about getting up early in the morning to go running and sleep the extra hour so you are just that much more awake for your exercise a lá discoteca.