The woman traveler has full access to the world.
Pink Pangea is the place where you can get real travel information from women just like you who want to see the world and are already doing it. Post your travel photos, connect to other women travelers, ask questions, share your insights, and get ready to see the world. As international travelers, we became frustrated by the lack of credible information about travel for women. Existing travel sites presented—at best—a paragraph that dealt with women's concerns and others were filled with non-specific information. We know that the real travel experts are the people who have actually been there. We want to hear about your travels: challenges you overcame, obstacles you came across, solutions you found, and of course, all the amazing places you saw and people you met.
We can't wait to hear from you. Start sharing your experiences.
---
Our Founders
Jaclyn Mishal
Jaclyn Mishal is a Co-founder of Pink Pangea, the community for women who love to travel.
Since 2006, Jaclyn has worked in the travel industry, connecting thousands of individuals with international academic, volunteer, and internship opportunities. In addition to her work devoted to making the "gap year" mainstream, Jaclyn played an integral role in developing international service learning programs.
She is a certified yoga instructor, whose travels have taken her to the Middle East, Europe, and Central America, and whose love of writing has taken her to workshops in Italy, Israel and Martha's Vineyard.
A writing teacher and an inspirational public speaker, Jaclyn's speciality is guiding people to express themselves fully. Her creative guided writing activities help even the most seasoned writers break out of their habits and expand their abilities. Jaclyn has led writing and Fearless Living workshops internationally in partnership with colleges and companies, including Barnard College, Mount Holyoke College, Smith College, REI, and Hostelling International. According to Jaclyn, writing enables us to access parts of ourselves that we may have trouble expressing otherwise.
Jaclyn's maternal grandmother survived the Holocaust and her paternal grandmother fled Baghdad, Iraq. To them, Jaclyn dedicates her work to providing a space for women to share their stories.
Get in touch at jaclyn@pinkpangea.com

Rachel Sales
A traveler and writer, Pink Pangea is where Rachel Sales's two loves meet. Before launching Pink Pangea, Rachel worked in tourism, helping to connect young adults to meaningful volunteer and internship opportunities abroad. Rachel has traveled extensively in the Middle East and Europe, and is constantly searching for flights to countries in Eastern Europe that haven't become hot travel destinations—yet.
Rachel has a B.A. in English Literature and an M.F.A. in Creative Writing from Columbia University. She currently lives 10 minutes from the beach in Tel Aviv, Israel with her husband, Ben.
Get in touch at rachel@pinkpangea.com

---
The Pink Pangea Team

Rebecca Roberts
Africa Editor
Originally from Toronto, Canada, Rebecca has spent the last years living, working and playing in South Africa. She has recently relocated to Tel Aviv, where she is completing her MA in International Migration Studies. Aside from planning her next trip, Rebecca can be found exploring Tel Aviv, sampling Israeli snacks and writing her thesis (on the beach.)
Julianne Kanter
East Asia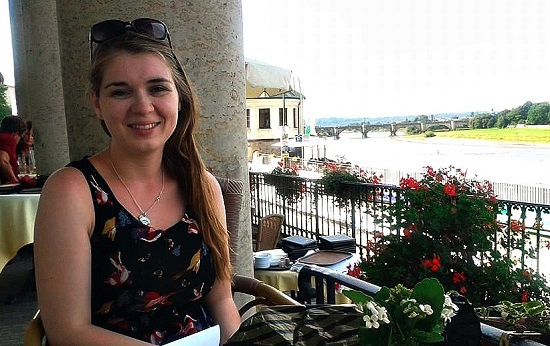 Christina Herrmann
Europe Editor
A New York City native, Christina just finished her undergraduate studies at Binghamton University (SUNY). Currently living in Hungary, she's a graduate student at Central European University. A dual German-American citizen, she's been traveling from a young age and is aiming for an international career in business. After finishing her first Master's degree, she'll complete another one at the London School of Economics and Political Science in 2015. You can read more about her travels on her blog.

Katy Miller
Europe Editor
Originally from Nashville, Tennessee, Katy has lived in England (Oxford, Manchester) and Spain (Córdoba) and will soon relocate to Portugal (Lisboa). She is a recent MA graduate from the University of Manchester, and her writing has appeared in the Huffington Post. Katy is an enthusiastic budget traveler and is always on the lookout for affordable adventures.

Iris Kamenev
Middle East Editor
Iris Kamenev graduated from the University of Minnesota with a degree in Genetics and Cell Biology. After finishing school, she decided that she needed a change and moved to Israel to teach English. Her next step is yet to be decided.

Ko Im
Oceania Editor
Ko Im is an island girl. After growing up on Guam, she's currently based in New York City as a features writer, yoga teacher and event/social media producer. The Columbia University Graduate School of Journalism alum authored and narrated a Broke, not Broken, a digital solo-travel-as-therapy memoir for millenials. You can find her admiring pretty things and drinking lots of coffee.

Carolyne Whelan
North America/Central America Editor
Carolyne Whelan received her MFA in poetry and nonfiction at Chatham University in 2009, where she was a finalist for Best Thesis. She was awarded a full fellowship scholarship to the Vermont Studio Center, an Honorable Mention in the Sacramento Poetry Center Prize for a Single Poem, and was a Jan-Ai fellowship winner. Her first chapbook, The Glossary of Tania Aebi, was published by Finishing Line Press ad her full length was recently a finalist in Four Way Books Intro Prize. Her work has appeared or is forthcoming in a number of journals, including Sugar House, Stir Journal, and Women's Adventure's online imprint. She lives in Pittsburgh, Pennsylvania and is the poetry editor for the Lime Hawk Arts Collective.

Kirsten Harris
North America/Central America Editor
Kirsten is an English teacher living in Québec, Canada, but is a native of Ohio. After re-igniting her passion for travel three years ago, she has been using her summer and winter breaks to combine travel with volunteer teaching opportunities. Between working, you'll find her either travelling or making plans for the next adventure! Read more about Kristen on her blog.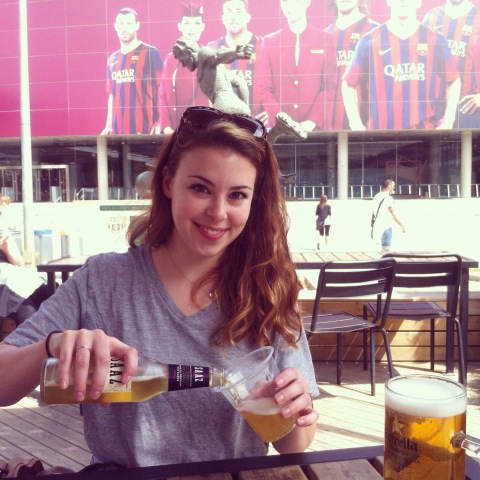 Lauren Krzyzostaniak
South America Editor
Lauren Krzyzostaniak spent the most stressful, exciting, and wonderful year of her life abroad as an English teacher, moving from Prague to Istanbul and vacationing everywhere in between. She is currently based out of New York, where she works as a freelance writer. Follow Lauren's travels on her blog and via Twitter at @ellafuntitus.

Elen Turner
South Asia Editor
Elen Turner is a writer and editor currently living in Western New York. She has led previous lives in Nepal, Australia, Japan, New Zealand, the Czech Republic and the UK. She completed a PhD at the Australian National University in 2012, which examined the contemporary Indian feminist publishing industry, and she has published widely on Indian feminism and literature. Her biggest travel dilemma is figuring out how to see all parts of India that she hasn't already visited while not neglecting the rest of the world. She blogs about her travels at Wilderness Metropolis.

Sharon Zelnick
Outreach Coordinator
Sharon Zelnick, an inveterate traveler, has currently put down roots in Tel Aviv to study Digital Communication and Literature at Tel Aviv University. Prior to deciding to pursue a more academic path, Sharon worked in photography both on a freelance basis, as well as for a number of world renowned photographers as an assistant and as an international outreach coordinator. When she is not wandering the world with her camera, Sharon can be found practicing yoga or relaxing on the beach.