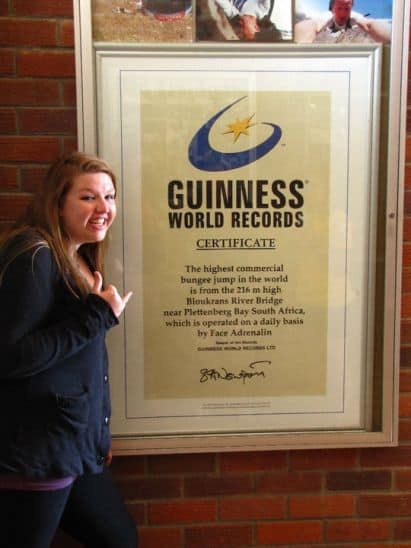 With the taste of the FIFA World Cup still lingering in everyone's mouth, the feeling of "ubuntu" has remained a crucial part of South Africa and their culture. Ubuntu is Xhosa for community, but not just community. It is community more in the sense of "I am because we are." I have experienced nothing but great ubuntu since coming to South Africa.
Although South Africa has carried around the damaging stigma of being dangerous, I have to say that I have felt safer here than in my college town of Waco, Texas. I do not go to bed hearing gunshots, so South Africa has remained a safe place…but one that holds much potential for risks if you are an adrenaline junkie like myself.
While being on exchange, we had spring break (my second one) at the beginning of September. A few friends and I decided to take the Garden Route drive to Cape Town. Staying at various backpackers' spots along this drive, our feelings of ubuntu continued and connected us to a lot of people and places, as well.
Our first whole day in Cape Town was marked by the inking of my first tattoo. Now, a lot of people wrinkle their nose and go, "wait, what? You got a tattoo in the number one HIV and AIDS infected country?! What were you thinking?" My answer is simple and somewhat serendipitous. I was never afraid. And, my friend Sticky who pierced my nose in the States four days before I left had known this guy in Cape Town and said that I had to go to him. I was already convinced. What are the odds that a random tattooist in my Podunk town in Wisconsin would know this award-winning tattooist in Cape Town? After three and a half hours of needle on my raw foot, my tattoo was done. I was on such a high from the endorphins that this marks risk one of the trip.
After a week filled with adventure and hiking to the top of the Cape of Good Hope, going to Cape Point, Table Mountain, the stadium in Cape Town, Robben Island, and beautiful beaches, it was time for us to head back to Grahamstown in the Eastern Cape. But first we stopped in Tsitsikamma for the Bloukrans Bungy Jump, the largest bungy jump in the world at 216 meters. Yes, I jumped off of a 216 meter bridge. If you like adrenaline and rushes, this will be the highlight of your life. It was the most exhilarating, liberating, freeing, but also the most beautiful view I have ever seen in my life. The rest of the day was nothing but smiles.
South Africa still has much more to offer in the risk and adrenaline department. I am looking to go cage diving with great white sharks, skydiving, among other heart-racing activities. Stay tuned for more risky behavior. And remember, ubuntu, not crime, is what I have experienced the most of in South Africa.